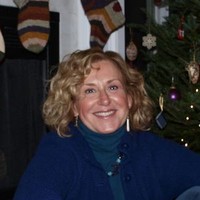 The following is from http://www.tributes.com/show/Caroline-M.-Ross-93781201
Caroline Maria Ross, age 53 of Cambridge passed away peacefully on Tuesday, May 8th at the Chilton House, surrounded by her loving family. She was the beloved wife of Lou Fuoco and beloved mother of Tyler B. Nuzzola Ross, both also of Cambridge.
The daughter of Richard and Maria (Veith) Ross of Falmouth, Caroline was born in Abington, Pennsylvania and raised in New Jersey and Boston.
She graduated from Brookline High School, earned a Bachelor's degree in International Relations from Macalester College and a Master's degree in Public Policy from Tufts University.
Caroline dedicated her career to social justice and improving the lives of children and families. She began her professional life as a policy analyst for the Committee on Human Services and Elderly Affairs at the Massachusetts State House. Since then, she held many positions including Director of the Center for Families of North Cambridge, Regional Coordinator at the Office for Children and advocate at Cambridge Cares about AIDS. In her most recent position as Vice President at the United Way of Massachusetts Bay and Merrimack Valley, she was instrumental in developing and launching the Connected Beginnings Training Institute as well as the Home Visiting Initiative, both of which have been recognized as leading edge models in Massachusetts. During this past year, she was pursuing an MBA at Simmons College.
At the center of her heart was her role as mother to her beloved son, Tyler. She was, above all, a constant, loving presence in all of his endeavors.
She cherished her life in Cambridge with her dear husband, Lou. Together they enjoyed nature, travel, family, World News With Diane Sawyer, Mad Men, The Good Wife and much laughter. She was also an avid gardener.
Caroline is also survived by her former partner, Patricia Nuzzola of Newton, her stepchildren Lee Fuoco of Beverly and Mark Fuoco of Cambridge and many friends and colleagues.
Gifts in her memory may be made to:
United Way of Massachusetts Bay and Merrimack Valley 51 Sleeper Street Boston, MA 02210 www.supportunitedway.org